Eastern/Southeast Queens News
Stories from Jamaica, Springfield Gardens, Hollis, Queens Village, St. Albans, Laurelton, Richmond Hill and South Ozone Park
Top Story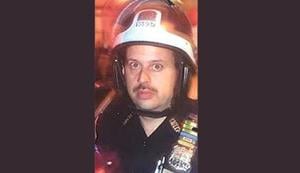 "How did this happen?"A Facebook friend of veteran NYPD Officer Robert Echeverria posted the question on his page after the officer from Laurelton on Aug. 14 became the ninth member of the NYPD to take his own life this year.
Updated: August 22, 2019 - 12:22 pm

The city's attack on chronic flooding in Southeast Queens has reached into two more neighborhoods with the start of a two-year, $24 million contract for projects in Hollis and Queens Village.

The projects are a continuation of a $1.9 billion program promised by Mayor de Blasio shortly after he took office in 2014.
Posted: August 22, 2019

A Jamaica woman has been sentenced to 23 years in prison for the March 14 meat cleaver attack that killed her aunt in their home.

Elizabeth Sanchez, 32, aka Digna Sanchez-Ortiz, pleaded guilty to first-degree manslaughter and second-degree rape on June 20, the latter charge for repeated incidents involving an underage male relative in 2016 and 2017.
Updated: August 22, 2019 - 1:19 pm

Every August for the last 29 years, the Indo-Caribbean Federation has done its best to keep a rivalry going between Guyana and the rest of the Caribbean.

For one day — on a well-worn field in Baisley Pond Park usually reserved for cricket's equivalent of Little League teams —professional players, active and retired, compete for the coveted ICF Cup and bragging rights for the next 12 months.
Updated: August 22, 2019 - 3:37 pm

It has been well documented that Queens residents have had a strained relationship with the United States Postal Service for at least the last two years.

Now some residents of Queens Village are telling the Chronicle that service of late has not been up to even recent standards in the last few days, with numerous residents on multiple blocks having their own mail misdirected while receiving that of neighbors who sometimes live on other streets.
Posted: August 22, 2019

A 38-year-old woman has been extradited from London to face homicide charges after a Queens County grand jury indicted her in 2016. Donna Francis — whom authorities said is not a doctor — allegedly performed a butt enhancement procedure on a Maryland woman, causing her death in May 2015.

Francis' last known New York address was on Huxley Street in Rosedale.
Updated: August 22, 2019 - 12:28 pm

As passionate birders and wildlife advocates walked the Jamaica Bay Wildlife Refuge Center's trail, they spent just as much time swatting away mosquitoes as they did spotting shorebirds.

That's because, according to the organizers of the 14th annual Shorebird Festival, the conditions on Aug. 17 were not too conducive to birding. It was quite muggy and overcast as Don Riepe, president of the American Littoral Society's Northeast Chapter, and others led dozens on the walk.
Posted: August 22, 2019

Al Jackson, the Met pitcher with the most victories before Tom Seaver, died on Monday after a long illness at the Emerald Nursing Home in Port St. Lucie, Fla., the team announced. He was 83.

The southpaw went 43-80 in six seasons with the Mets. His 10 shutouts were also a team record until Seaver surpassed the mark. Seaver would also pass Jackson in the losses column.
Posted: August 22, 2019

The NYPD is seeking the public's help in identifying a man who allegedly used a credit card stolen from a car in the 105th Precinct in Eastern Queens.

Police said the victim went to his car at about 8 a.m. on Monday, Aug. 12 to discover his wallet, containing credit cards, was missing from the glove compartment.
Posted: August 22, 2019

The Spring Jam Block Association and GatewayJFK will host the seventh annual Spring Jam Block Party from noon to 6 p.m. on Aug. 24.

The event will take place on 146th Avenue between 157th and 159th streets.
Friday 08/23/2019
Thursday 08/22/2019