Eastern/Southeast Queens News
Stories from Jamaica, Springfield Gardens, Hollis, Queens Village, St. Albans, Laurelton, Richmond Hill and South Ozone Park
Top Story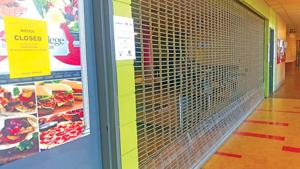 City health inspectors ordered the cafeteria at York College in Jamaica to close after an inspection on Sept. 10 discovered evidence of mice and other health violations.In a seemingly unrelated matter, a visit to the campus this past Monday also confirmed that the school's Milton G. Bassin Performing Arts Center has been closed because of possible mold conditions, forcing the school to relocate a number of classes to alternate sites.
Posted: September 19, 2019

On Nov. 11, 1989, NYPD Det. Keith Williams and his partner, Det. Richard Guerzon, gave their lives for the city.

Last Saturday the city unveiled a memorial to Williams, co-naming the corner of 172nd Street and Liberty Avenue in Jamaica as Det. Keith L. Williams Way.
Posted: September 19, 2019

The NYPD's 103rd Precinct is investigating two acts of vandalism that have taken place on consecutive Sundays at St. Gerard Majella Church in Hollis.

The church is located on 91st Avenue. In a statement sent on Tuesday, the Diocese of Brooklyn said the incidents took place on Sept. 8 and Sept. 15.
Posted: September 19, 2019

Children at the Saratoga Family Residence in Jamaica got in the back-to-school spirit during a backpack and school supplies giveaway on Sept. 4.

Saratoga is a family homeless shelter operated by Homes for the Homeless. It provides temporary housing, social services, in-house childcare and afterschool and recreational programs for over 250 New York City families, including over 200 school-aged children.
Posted: September 19, 2019

It was "a very busy summer."

The words came from Inspector Jerry O'Sullivan, addressing the 113th Precinct Community Council Executive Board Monday evening, and he used them to describe developments both positive and negative.
Updated: September 19, 2019 - 12:44 pm

On the same schoolyard basketball courts where he grew up, Royal Ivey — an all-city champion at Benjamin Cardozo High School, with a decade in the NBA with the Philadelphia 76ers and the Oklahoma City Thunder among others, now an assistant coach with the New York Knicks — returned for his long-running basketball camp.

Ivey, far right in blue, has sponsored and directed the three-day camp for neighborhood kids in Hollis since his first year in the pro ranks.
Posted: September 19, 2019

As the 18th anniversary of the 9/11 attacks was observed throughout Queens, students PS 186, Castlewood, in Bellerose, welcomed City Councilman Barry Grodenchik (D-Oakland Gardens) on Sept. 11 for a commemoration of those lost that day in 2001.

Grodenchik joined the students for a moment of silence for the fallen.
Posted: September 19, 2019

South and Southeast Queens are rallying to the aid of the Bahamas, which remains devastated since being struck by Hurricane Dorian on Sept. 1.

The United Methodist Church at 126-22 150 St. in South Ozone Park has teamed with the Lions Club, the Bahamian American Cultural Society and the Bahamas Consulate to coordinate relief efforts.
Updated: September 20, 2019 - 4:40 pm

It's the second-most popular sport in the world. And a new panel focused on growing it in New York State may be created.

Assemblywoman Nily Rozic (D-Fresh Meadows) and state Sen. Kevin Thomas' (D-Nassau) new bill to establish a cricket task force, which would study how the sport can be best promoted, passed in the Legislature earlier this summer and now awaits the signature of Gov. Cuomo. After creating an initial report on its findings about strategies to expand the sport, the group would annually report on how they are being implemented.
Posted: September 19, 2019

With the fall comes the harvest; and in Jamaica that means the third annual Harvest Festival sponsored by the Sutphin Boulevard Business Improvement District in Jamaica.

The event will run from 10 a.m. to 6 p.m. on Saturday, Sept. 21 on Sutphin Boulevard between Hillside and Jamaica avenues.
Friday 09/20/2019
Updated: September 20, 2019 - 3:41 pm

Six Queens subway stations would be among 70 citywide outfitted with elevators under the new five-year capital budget request made public by the Metropolitan Transportation Authority this week.
Updated: September 20, 2019 - 3:29 pm

Summer lingers on until Monday, both scientifically and atmospherically — it's supposed to be 82 and sunny the next three days! So enjoy this summer swan song, and if you want ideas on what to do, here's our weekly list of five. One is all outdoors and another is partially so!
Thursday 09/19/2019
Posted: September 19, 2019

The proposed Total Wine & More mega-store in College Point isn't going down smooth with the industry's smaller merchants in Queens.

Around 40 merchants and United Food and Commercial Workers Local 2D members rallied against the plan with Metropolitan Package Store Association Executive Director Michael Correra and Assemblyman Ron Kim (D-Flushing) on Monday evening at the Sheraton LaGuardia East Hotel in Downtown Flushing.
Updated: September 19, 2019 - 12:22 pm

Members of Community Board 6 cleaned house last Thursday in an election that saw six of their seven officers come up on the short end of the votes.

Alexa Weitzman was elected new chairperson.
Updated: September 19, 2019 - 12:35 pm

"Unacceptable" was the word heard over and over again last week at a rally outside Bayside High School to protest a $3 million cut in funding to the school this year by the city's Department of Education.

"We are being penalized by the Department of Education" for the school's success over the last decade, Paul DiBenedetto, president of the school PTA, told a group of about 20 parents who gathered in the park across from the school..
Updated: September 19, 2019 - 12:23 pm

Talk always has been cheaper than action when it comes to modernizing the city's mass transit system.

On Monday, the Metropolitan Transportation Authority challenged the state and city to put $51.5 billion where their mouths are.
Posted: September 19, 2019

Luckily, the hospital was right there.

Two guys on bicycles beat and robbed a man in Elmhurst last July 17, and police on Thursday released video of the perpetrators — who told their victim they were cops — in an effort to find them.
Updated: September 19, 2019 - 12:25 pm

A 98 percent graduation rate. A 90 percent Regents pass rate. The awarding of the prestigious National Blue Ribbon last October.

Impressive feats to tout for Maspeth High School — until the New York Post reported last weekend that an unwritten "no-fail policy" is the cause of the grades.
Updated: September 19, 2019 - 3:02 pm

The fire trucks of Engine Company 331 in Howard Beach were pulled out of the firehouse onto Cross Bay Boulevard last Wednesday to make room for a solemn candlelight ceremony at sundown for the victims and heroes of Sept. 11.

The annual commemoration continues to draw several hundred people from the neighborhood, including the combined children's choir from Our Lady of Grace and St. Helen Roman Catholic Churches, state Sen. Joe Addabbo Jr. (D-Howard Beach) and Assemblywoman Stacey Pheffer Amato (D-Rockaway Park).
Posted: September 19, 2019

A 59-year-old construction worker fell to his death early last Thursday in Elmhurst after a truck hit the cherry picker he was working in, according to police.

Jose Polanco, who was employed by Welsbach Electric Corp., was working on a traffic light at the intersection of Goldsmith Street and Grand Avenue when he fell nearly 20 feet to the ground around 2:45 a.m.
Updated: September 19, 2019 - 12:29 pm

What would a public meeting on a major project in western Queens be without a protest?

A presentation on Monday night by the city's Economic Development Corp. promoting the proposed overbuild of the Sunnyside Yard rail complex had its supporters and detractors among the more than 200 people who dropped by Aviation High School in Long Island City.
Updated: September 19, 2019 - 12:31 pm

Location, location, location.

Turns out the neighborhoods where you eat out may be as important as what you eat when it comes to clean restaurants.
Updated: September 19, 2019 - 1:02 pm

Teachers in Queens have been swapping horror stories for more than a decade about schools that made classrooms out of janitor's closets and school-supply storage rooms.

Many of the borough's 359 schools have been overcapacity for so long, it is hard to find a staff member who can recall a time when enrollment and the number of seats available matched up.
Updated: September 19, 2019 - 12:54 pm

The Bayside Hills Civic Association held a moving Sept. 11 remembrance ceremony last Wednesday at Bell Boulevard and the Horace Harding Expressway, paying tribute to the victims of the attacks and the first responders who rushed into danger.

Above, Borough President Melinda Katz offers remarks at the event. In addition to praising the emergency personnel who responded to the attacks, she described the feeling of unity experienced by many New Yorkers in response to the tragedy.
Updated: September 19, 2019 - 3:34 pm

"Through blurred eyes we find the strength and courage to soar beyond the moment. We look to the future knowing we can never forget the past. God Bless America."

Those are the words at the 9/11 Memorial Garden at Juniper Valley Park.
Posted: September 19, 2019

As dusk began to descend last Wednesday, a small fleet of emergency vehicles parked at an angle with flashing lights, illuminating the front of the Forest Hills Volunteer Ambulance Corps building, joined by a handful of motorcycles from the Punishers Law Enforcement Motorcycle Club New York Chapter.

Participants and spectators were gathered to memorialize the lives of those who perished on Sept. 11, 2001 in the attacks on the Twin Towers and specifically the life of one of the FHVAC's members, emergency medical technician trainee Richard "Richie" Allen Pearlman. Pearlman had answered the call from officials through the media asking anyone with rescue and medical experience to come to their aid, and became the youngest first responder to die at Ground Zero that day.
Updated: September 19, 2019 - 12:40 pm

Whitestone residents honored the victims of and first responders to the Sept. 11 terrorist attacks last Wednesday in Francis Lewis Park. The We Love Whitestone Civic Association and the Friends of Francis Lewis Park sponsored the ceremony.

The event honored a list of northeast Queens residents, most of them from Whitestone, who died in the horrific tragedy: Carl Asaro, Dominick Berardi, Brian Joseph Cachia, Steven Cafiero Jr., Vincent Cangelosi, Michael Carlo, Thomas Casoria, David DeFeo, Charles Lucania, Ronald Keith Milstein, Diana J. O'Connor and Jennifer Wong.
Posted: September 19, 2019

Pimped out with huge sound systems, the automobiles blast music late into the night.

It's been one of biggest quality-of-life issues for Whitestone and College Point residents in recent years. City Councilman Paul Vallone (D-Bayside), who represents those neighborhoods, said his constituents have filed around 80 complaints to 311 about excessive noise from a motor vehicle so far this year.