Eastern/Southeast Queens News
Stories from Jamaica, Springfield Gardens, Hollis, Queens Village, St. Albans, Laurelton, Richmond Hill and South Ozone Park
Top Story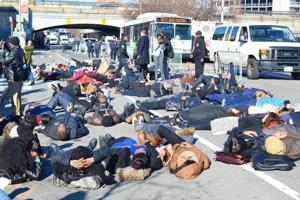 The already-heated rhetoric between local officials and the NYPD was ratcheted up a notch on Monday at a "die-in" organized by students at York College.The rally took place on Guy R. Brewer Boulevard outside the entrance to York's campus.
Posted: December 18, 2014

Leaders of Community Board 13 said Monday that the city's Administration for Children's Services wants to place a home for nonviolent youthful offenders in Queens Village.

But board members also said they want ACS officials to attend a meeting and discuss exactly what they have in mind.
Updated: December 18, 2014 - 12:48 pm

The annual Holidays on the Avenue celebration brought the spirit of the season to Downtown Jamaica on Dec. 13.

The evening began with the traditional tree lighting at Rufus King Park, complete with familiar holiday music and carols.
Updated: December 19, 2014 - 12:21 pm

The star of the St. John's men's basketball team is not the tattooed shooting guard with the sweet jump shot.

It's not the lengthy center with the imposing presence on defense.
Posted: December 18, 2014

Thousands of protesters marched through the streets of Washington, DC last Saturday to call for legislative reform and show solidarity against what they called a flawed and racist judiciary system.

Saturday's "Day of Resistance" was just the latest in a series of protests nationwide in the wake of a Staten Island grand jury's decision not to indict NYPD Officer Daniel Pantaleo for the wrongful death of Eric Garner.
Posted: December 18, 2014

The U.S. Post Office in Springfield Gardens soon will bear the name of a trailblazer in Queens politics.

The U.S. Senate in a recent vote passed a House of Representatives measure naming the building at 218-10 Merrick Blvd. for Cynthia Jenkins, who was the first African-American woman from Southeast Queens voted to the state Assembly when she took office in 1981.
Posted: December 18, 2014

Clients and staff at Lifespire, a nonprofit based in Jamaica that provides services for the developmentally disabled, last week transformed their floor in a Jamaica office building into a Manhattan holiday showcase.

At top, Lifespire staff member Nadira Cumberbatch, left, leads singers in Christmas carols and selections for Hanukkah.
Posted: December 18, 2014

Two Queens residents on Tuesday were sentenced to 15 years in prison for their roles in the February 2011 shooting at a party that killed a 26-year-old woman.

Oneil Mairs, 27, of 178th Place in Jamaica, and Nicholas Allen, 25, of 212th Street in Queens Village, were convicted back in November of manslaughter in the death of Avalisa Morris in the early morning hours of Feb. 2, 2011.
Posted: December 18, 2014

It's been a long time since I and many other St. John's alumni around my age have said we're proud of our basketball team, since our college squad has energized its fan base like this.

It's been a few years since Red Storm players have been asked what it's like to be the best hoops team in the city, if not the best ball club in the five boroughs in any sport.
Friday 12/19/2014
Thursday 12/18/2014