Eastern/Southeast Queens News
Stories from Jamaica, Springfield Gardens, Hollis, Queens Village, St. Albans, Laurelton, Richmond Hill and South Ozone Park
Top Story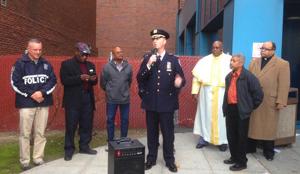 Jamaica residents learned the hard way last Thursday that terrorism isn't just the practice of international organizations such as al-Qaeda and ISIS.A hatchet-wielding man brutally attacked four rookie police officers as they posed for a picture on Jamaica Avenue in what NYPD Commissioner Bill Bratton said was an act of terror.
Posted: October 30, 2014

A proposition on Tuesday's ballot that could take electoral redistricting out of the direct hands of the state Legislature is coming under fire from the Jamaica branch of the NAACP.

Leroy Gadsden, the chapter president, was joined on Monday by civic and clergy leaders at a press conference outside the group's St. Albans offices.
Posted: October 30, 2014

"My hope is to be a soldier," said six-year-old Shamir.

"My dream is to go to a restaurant with my family," said five-year-old Elizabeth.
Posted: October 30, 2014

Neighborhoods around LaGuardia and John F. Kennedy International airports will be studied with an effort toward noise abatement under a contract awarded Monday by the Port Authority of New York and New Jersey.

The PA has hired Environmental Science Associates of San Francisco to conduct a federal Part 150 study, which they hope will come up with proposals to mitigate noise from large jet aircraft.
Posted: October 30, 2014

Douglas Avenue in Jamaica is not featured in glossy real estate ads or in the tours or literature offered by the Queens Borough President's Office or the Greater Jamaica Development Corp.

The seven-block street, heading east between 168th and 175th streets, is uneven and seemingly is barely paved.
Posted: October 30, 2014

At Martin Van Buren High School, most of the headlines in the last year or so have been about the new B-Tech high school and its innovative take on computer science education.

But Community Board 13 found out Monday night that at Van Buren, Sam Sochet can boast of his own students as well as any principal in the city.
Posted: October 30, 2014

York College last week honored its longest-serving president and a tireless advocate for the CUNY educational system with its naming and dedication of the Milton G. Bassin Performing Arts Center.

Bassin served as president of York from 1971 until his retirement in 1991. He died in 2012 at the age of 88.
Posted: October 30, 2014

Members of Community Board 13 were optimistic Monday night regarding a developer's proposal to renovate a small strip mall on Merrick Boulevard in Laurelton.

The property is at 221-18 Merrick Blvd. between 221st and 222nd avenues. Richard Hellenbrecht, chairman of the land use committee said the primary use now is a flea market that operates out of the parking lot.
Updated: October 30, 2014 - 1:08 pm

Members of Queens Detachment 240 of the Marine Corps League raised $2,000 on Sunday during the Queens County Farm Museum's annual Children's Fall Festival in Glen Oaks.

Money raised will go to the group's Toys for Tots program.