Eastern/Southeast Queens News
Stories from Jamaica, Springfield Gardens, Hollis, Queens Village, St. Albans, Laurelton, Richmond Hill and South Ozone Park
Top Story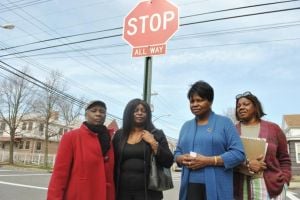 Fay Hill of Springfield Gardens never had to ask what happened when she was awakened early in the morning to the sound of screeching tires followed by a loud crash.And she knew it was at the intersection of 181st Street and 145th Avenue.
Posted: April 17, 2014

A town hall meeting hosted by state Sen. Malcolm Smith (D-Hollis) on April 10 featured some talk about the state budget.

But it was the transportation segment that the crowd of more than 80 at the Alpha Phi Alpha Senior Citizens Center in Cambria Heights came to hear, and which wound up taking over most of the evening.
Updated: April 17, 2014 - 12:16 pm

An Easter celebration came early last Friday for students at PS 182 in Jamaica, courtesy of the Greater Jamaica Development Corporation.

The GJDC sponsored the event, where children gathered in the Harvest Room at the Jamaica Market to partake in a party complete with games, and colorful arts and crafts.
Updated: April 18, 2014 - 12:47 pm

Not to be outdone by other Queens elected officials, state Sen. Tony Avella (D-Bayside) announced a bill Monday that would not only limit pay for the Queens Library president, but also call for an entire new board of directors by January.

"The other bill, initiated by Borough President Melinda Katz, doesn't go far enough," Avella said. "My bill limits outside employment [for the director] and reduces the number on the board."
Updated: April 17, 2014 - 3:36 pm

They were a long time in coming.

So when the New York City Housing Authority began installing security cameras at the crime-ridden Hammel Houses in Rockaway Beach on April 4, Councilman Donovan Richards (D-Laurelton) and his predecessor, state Sen. James Sanders (D-South Ozone Park), made sure to be on hand.
Updated: April 17, 2014 - 11:43 am

Next to the sea of blue, another sea of blue gathered to say goodbye to one of their own.

Thousands of cops from around the city, and even from other states, descended on the Rockaway Peninsula Monday for the funeral of Police Officer Dennis Guerra, who died April 9 from injuries he sustained in a fire in Coney Island that was allegedly started by a bored teenager.
Posted: April 17, 2014

Mayor de Blasio announced Monday that the Macy's 4th of July fireworks display will return to the East River this year, a change he pushed for as public advocate, after several years in the Hudson.

The pyrotechnics will not be fired off near the Queens shore, however. The show will instead be centered in the lower part of the river around the Brooklyn Bridge, but will be viewable from much of the borough. Macy's said the fireworks will be launched directly from the 131-year-old Brooklyn Bridge.
Posted: April 17, 2014

The NYPD is seeking the public's help in finding an 84-year-old Rosedale man who was last seen leaving his 254th Street home at about 11 a.m. on Monday morning.

Pierre Severe is described as a black male, 5 feet, 6 inches tall and weighing 160 pounds with brown eyes and black hair. He was wearing a long-sleeved blue and white T-shirt and blue jeans.
Posted: April 17, 2014

An 83-year-old man Springfield Gardens man who was reported missing on April 5 was found dead in the waters off Nassau County last week.

William Braxton was recovered by Nassau police on April 9 in waters called Head of Bay, between John F. Kennedy International Airport and the county's Inwood section. The NCPD said the investigation was turned over to New York City authorities.
Posted: April 17, 2014

A 29-year-old Nassau County man was killed early Monday morning in what the NYPD is calling an alcohol-related crash.

Police in the 105th Precinct said Kendall Heard of Freeport was a passenger in a 2014 Infiniti sedan being driven east on the Belt Parkway at about 4:15 a.m. by Sharlene Numa, 28, of Roosevelt, LI.
Monday 04/21/2014
Thursday 04/17/2014
Thursday 04/10/2014